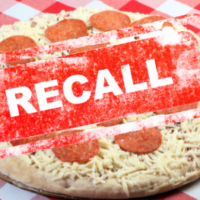 A recall notice by the U.S. Department of Agriculture's Food Safety and Inspection has revealed DiGiorno's parent company is recalling almost 30,000 pounds of frozen DiGiorno Crispy Pan Crust pepperoni pizza
The reason for this recall is simple, inside those boxes is not peperoni pizza, it is in fact the three meat pizzas instead. While this may not appear to be a major issue, it in fact is.
The three meat pizzas contain a soy product that isn't labeled on the pepperoni box.
Which is a huge concern for those with soy allergies.
Here is what you need to know to identify the mislabeled pizza.
It is in a 26oz carton, labeled DiGiorno Pepperoni Crispy Pan Crust. The lot number to look for is 1181510721. It also has a best by date of MAR2022 on the packaging.
Even if you are not allergic to soy, it is still recommended you return the pizza to where you bought it, for a refund, just to be safe.