Welcome back to another edition of Furry Fridays! This week we're talking about something that my dog Stiles has an issue with at times- anxiety. Just like humans, your pets can get anxiety about different things. Social anxiety, uneasiness around loud noises, even car rides! Stiles has anxiety around new people, bigger dogs, and long car rides. Fortunately he's gotten better about car rides since the first time we went out. That day wasn't pretty. Let's just say… He produces a lot more puke than i ever thought possible. He does sometimes need some calming down when we travel long distances. For instance when I travel home to Chicago from Kokomo. A lot of times I will try to ease his anxiety verbally. However, when he's worked up, he doesn't listen much to what I'm saying. What works for me is medication. I will give him the correct dosage of medication before we leave, and he will rest much easier.
Social anxiety is a whole different beast that unfortunately takes a bit more creativity than just popping a pill. Karen from the Kokomo Humane Society gave some great advice! Also make sure to check out Sweetie- our adoptable pet of the week!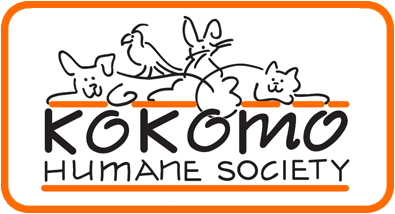 Note From The Director
Animals like people often experience anxiety about everyday events such as car rides, a visit to the Vet, being left alone or even meeting new people. While I don't know that we can totally cure a pet's fears or anxieties there are definitely ways to help them deal with them.
Car rides are a biggie for some animals, often it has to do with negative associations such as the only time they are in the car is for a trip to the vet. That is an easy fix with some heavy doses of positive reinforcement. Carry some high value treats and give them liberally on the way to the car, in the car and after the ride is over. After a few car rides your dog will begin to associate taking a drive with some great special treats. If motion sickness is the cause of the anxiety definitely don't offer food but contact your Veterinarian to find out the correct dose of Dramamine to give your pet. They may never love going for a ride but at least they won't puke in your car.
You can handle the Vet visit the same way, but maybe stop at the park first so the car ride isn't just for the purpose of a checkup. Once at the office ask the Vet Techs and the Veterinarian if they could give treats too. They usually do, but at the end of the visit, maybe starting out with positive could help as well. If that fails you may have to muzzle your dog for the exam, I have had to do it in the past with my dog Daphne. You may feel bad when you see your dog looking like Lex Luther from Silence of the Lambs but really it is better to be safe than sorry.
I feel like a broken record but when your dog is afraid of new people what is the answer? You got it, treats! Have a package at the door and everyone who comes in can potentially replace you if they give enough treats. Another helpful measure is to make your dog sit and stay away from the door when quests arrive. If they charge the door they may be feeling they are protecting you and their home. If the atmosphere is calmer most likely the dogs will be calmer.
Anxiety and fear are difficult emotions for both two and four legged creatures but if we try and focus on the positive and keep things peaceful that could help all of us.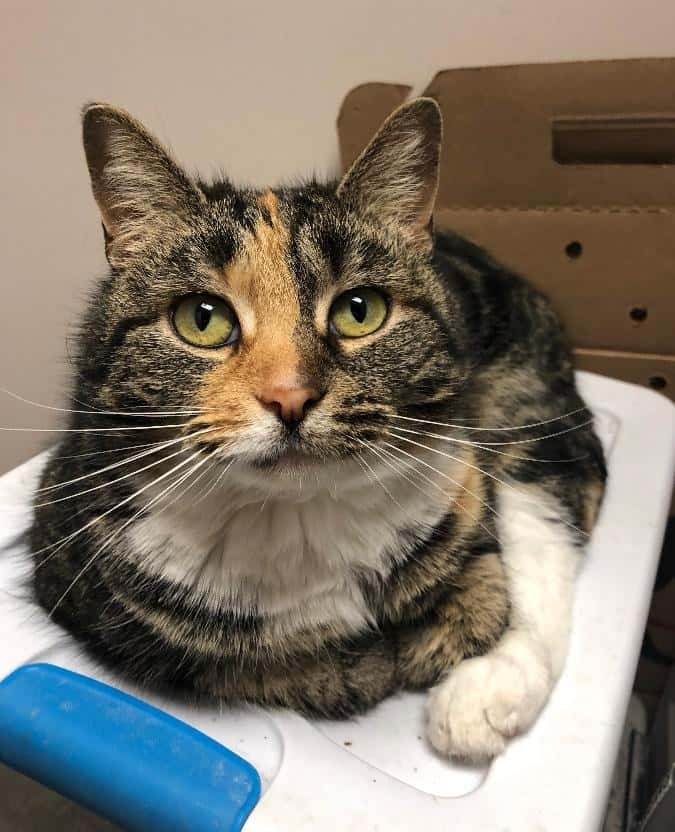 Our adoptable pet this week is Sweetie, a one year old Tortoiseshell cat. Her name says it all! She is super sweet, beautiful and very friendly. She definitely doesn't have stranger anxiety. She would be purrfect in just about any home that wants a cat that is going to be loving, affectionate and all up in your business all the time! She is ready to find her furever home and as she is already spayed she can go home the same day she is adopted. Her adoption fee is $30 which includes her spay surgery, vaccines, microchip and a free wellness exam.