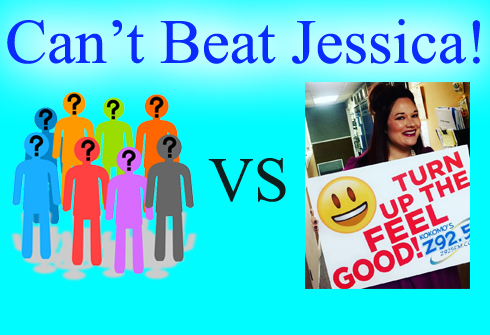 How well do you know your trivia, celebrity gossip or current events? Use your knowledge to win with Can't Beat Jessica! Monday through Thursday morning, Jessica and Ben will play for your chance at winning a 2 VIP meal cards with McAlister's Deli!
Listen every Friday for a chance to win a Texas Roadhouse gift certificate!
Join Jessica and Ben in their new daily morning game played every week day sometime between 6 and 9!
Here's how the game works:
Jessica and Ben will pick a caller.
Jessica will step out of the room and Ben will ask the caller 3 questions.
Jessica will then answer the same questions and who ever answers more questions correctly wins! Ties go to the caller.
Special thanks to our Can't Beat Jessica Sponsors:
Herbst Pharmacy
Reflections Day Spa
Waddell's Meat Market and Grocery
Encompass Credit Union
Leffert Stone
Ivy Tech