It's been awhile everyone. But don't fret, I'm back with more Feel Good! One of my all time favorite things to do in the Summer or any time of year, is attend concerts. But Summertime concerts have a special feel to them don't they? The sunshine, fresh breezes, the bass pumping through your body. There's not many better feelings! This last week I attended The Adventures of Kesha & Macklemore at the Ruoff Home Mortgage Music Center!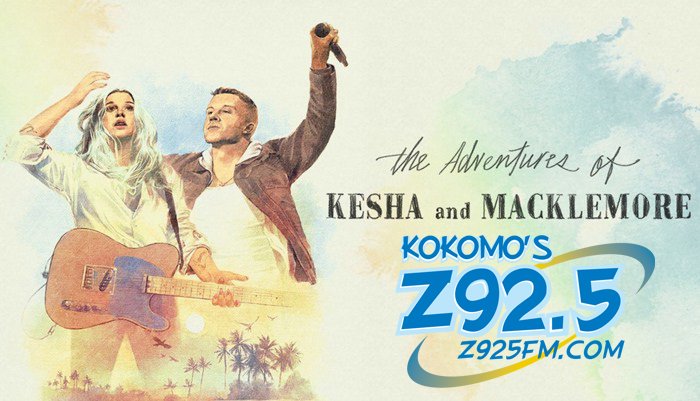 When Kesha dropped her new album this past year I was in love. It was a new sound. A more intimate feeling album than any we've heard before. 'Praying' was an emotional inside look into her life the past few years. 'Learn to Let Go' was the perfect anthem for anyone that's gone through a painful breakup or experience in life.  But in true Kesha fashion, it included some great clubbin songs too! Mmt mmt mmt. (Those are my club beats).
So clearly, I was SO EXCITED to see Kesha live for the first time ever.
But first, Macklemore. I will be honest, I enjoy Macklemore's music, however, I didn't have super strong feelings about seeing him one way or the other… until I saw him. Oh my goodness. He put on such a great show. So interactive with the audience. So funny. So real. He played all of his hits, along with some new music. At one point he had 2 members of the audience who had a Golden ticket under their seat, sitting on an air mattress on the stage enjoying the show from their "new seats"! He had high energy, costume changes and even dancers! If you get a chance to see him, do it! So good!
Then it was time… KESHA! The stage was set with a huge space ship which she used for all of her costume changes throughout the night. It was a fun, nostalgic, weird experience all combined into one. She played some of her new songs, but spent a good portion of the show playing remixed versions of her biggest hits. Something for everyone to enjoy! There's no denying the girl is talented. Her voice filled the venue along with 16,000 of us fans! There's no better sound! See her if you get a chance! Here's some pics from the show! On another note… why can we not wear Concert attire like her in everyday life?! I would kill it.