MID-CENTRAL TROPHY
Z92.5 Student of the Month!!
CONGRATULATIONS TO OUR APRIL "STUDENT OF THE MONTH"
KENDALL PAGINGTON!!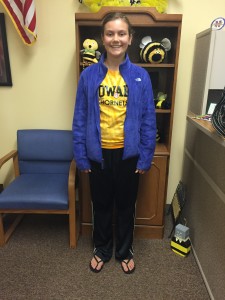 Kendall is a sixth grader at Howard Elementary School, in Mr. Burkhalter's class.  She is an individual who has an engaging personality, outstanding work ethic, and one that is a friend to everyone.  Kendall is a member of the Howard Spell Bowl Team, Math Bowl Team, and the Howard Elementary Student Council.   She also is a strong leader on the sports field, as Kendall plays soccer and basketball.
Congratulations Kendall, from all of us here at "Kokomo's Variety" Z92.5!!
It's time to highlight our students and shine the spotlight on them for accomplishing great things!!
Parents, Teachers, Administrators, submit the name, school, and brief explanation of your students academic accomplishments or personal achievements!!
Each month now through June, 2016, one area K-12 student will be selected, from all submitted entries, by the Z92.5 staff as the "Z92.5 Student of the Month"!!
Each "Student of the Month" will have their photo and submitted essay featured at z925fm.com and on our social media pages on Facebook, Twitter, and Instagram!!
Nominate your student today!!