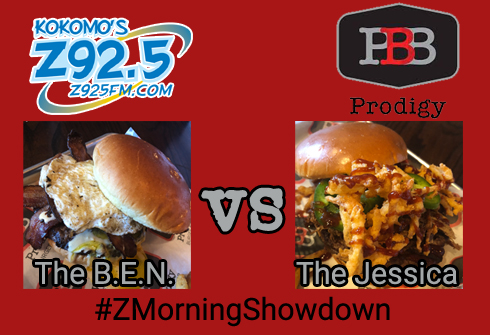 Jessica & Ben are partnering with Kokomo's newest restaurant, Prodigy Burger & Bar in the Markland Mall for the first ever #ZMorningShowdown!
The burgers have been made! Stop by anytime 11am-10pm at Prodigy Burger and Bar to try them today!
Both burgers are made with the Prodigy signature beef blend.
The B.E.N. is an acronym for the ingredients. There's bacon, egg (fried) and nacho cheese (queso).
The Jessica is topped with braised beef, fired onion strings, jalapenos and Sweet Baby Ray's bbq sauce.
Let us know who's burger you like better by sharing on social media with #ZMorningShowdown for a chance to win weekly prizes!