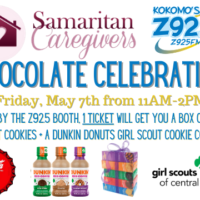 Join the Z92.5 Crew on Friday, May 7th from 11AM-2PM at First Nazarene in Kokomo for Samaritan Caregivers Chocolate Celebration!
Stop by the booth and1 ticket will get you a Dunkin Donuts Girl Scout Cookie Coffee From Coca-Cola of Kokomo PLUS a WHOLE box of Girl Scout Cookies from Girl Scouts of Central Indiana!
Click here to learn more about Samaritan Caregivers!