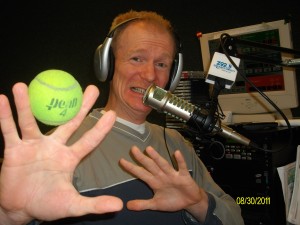 Broadcasting has long been a passion for Tim, going way back to his childhood. The show "WKRP in Cincinnati" fascinated him… Although Loni Anderson might have had something to do with that! Fiction then became reality as he got into radio at Kokomo's Haworth High School. The radio station WHSK 89.1 FM is gone and so are the Haworth Huskies. It still pains Tim to call that other building on south Berkley anything other than Haworth.
A native of Kansas City, Missouri, Tim is an avid sports fan and cheers on the KC Chiefs and Royals as well as the Mizzou Tigers. Indiana is a big part of his heart too as he roots on the Indiana Pacers and the Notre Dame Fightin Irish.
He attended Vincennes University and IUK
Tim loves spending time with his family, Mom and Dad, Marilyn and Ray. Brother and sister, Scott and Ramona, Plus a wonderful daughter Kayla.
Tim enjoys comedies like Seinfeld, Curb Your Enthusiasm, The Simpson's, Arrested Development and the Office. Movies that make him laugh til milk shoots out of his nose include the original Arthur, A Christmas Story and anything by Mel Brooks or with Will Ferrel.
A bowl of cereal, cartoons and Sportscenter = Xanadu for Tim!
He and his daughter Kayla both live in North Central Indiana.follow Tim on twitter: @timzradiodude