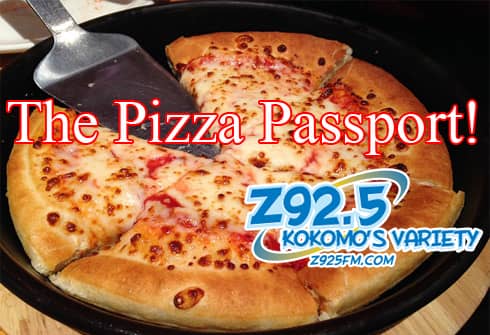 It's your opportunity to save a ton of money and score pizza from your favorite local pizza joints.
When you buy the card for $24.99, it guarantee's a large cheese pizza at any of the restuaruants mentioned to use before september 1st, 2017.
1. Ned's Corner Pub – 105 W. Markland Ave, Kokomo
2. Bella Pizzeria – Markland Mall at 1114 S. 17th Street Kokomo
3. Jim's Pizza – 1443 Home Ave, Kokomo
4. Heritage Lanes – 1301 W. Lincoln Road, Kokomo
5.T's Pizzaria & Tacos – 317 E. Lincoln Road, Kokomo
6. Hot Box Pizza – 2116 E. Markland Ave., Kokomo
7. Pizza Hut – 2328 W. Sycamore Road Location ONLY
8. Red Rocket Bar & Grill – 1458 Liberator St., PERU IN.
9. Oscar's Pizza – 515  N. Buckeye St., Kokomo
10. Gabe's Pizza – Good for one pizza at any one of these three locations below:
405 E. Center Rd, Kokomo
2112 W. Sycamore Rd., Kokomo
1716 W. Boulevard, Kokomo
Added charge for additional toppings, dine in or carry out only, tax and gratuity not included and cannot be combined with other offers.
·Card will expire on September 1, 2017
·Card valid for (1) one Large Cheese Pizza as specified by each participating restaurant.
·ONE TIME USE ONLY per participating business
·Added charge for additional toppings
·Only (1) one Card can be used per order
·Tax & Gratuity NOT INCLUDED
·Can only be used for EAT-IN or TAKE-OUT: CANNOT BE USED FOR DELIVERY
·Cannot be combined with any other specials or programs
·No refunds. All sales are final.