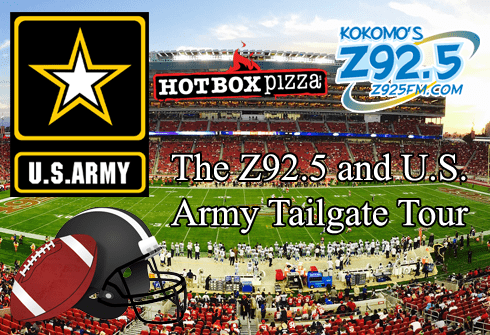 Join Z92.5 and the United States Army at the tailgate tour all football season long!! We will broadcast live 5-7p leading up to the games with tons of FREE prizes plus ice cold Coca-Cola courtesy of Coca-Cola of Kokomo.
The United States Army will be there with their dog tag machine and great prizes!!
Join us from 5-7pm at the following games!
Friday September 6th-   Sheridan @ Tri- Central School
Friday September 13th-Taylor @ Eastern High School
Friday September 20th- Lafayette Jeff @ Kokomo High School
Friday September 27th- Northwestern @ Tipton High School
Bring non-perishables to the game to be donated to the Kokomo Rescue Mission!
The school with the most donations will win a pizza party courtesy of
Hotbox Pizza!