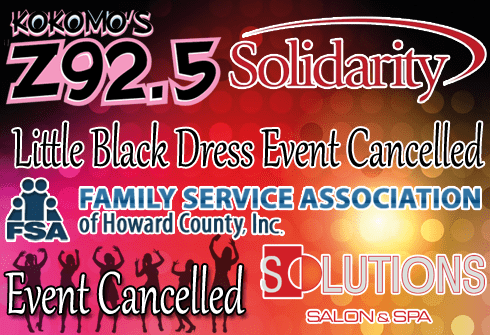 2020 Z92.5 Little Black Dress Fundraiser for the Domestic Violence Shelter Cancelled due to COVID-19.
In the interest of public health & safety and to assist in limiting the spread of COVID-19 Z92.5, has made the decision to cancel the 2020 Little Black Dress Event on Friday August 28th at the Bel Air in Kokomo.  
The cancellation is in line with Governor Holcomb, the Indiana State Department of Health's, and the Howard County Board of Commissioners' directives to limit non-essential gatherings to no more than 250 people.  We know that a cancellation is in the best interest of the health and welfare of our employees, listeners, attendees, and business partners.
All who purchased tickets for this signature fundraising event are encouraged to consider the ticket cost as a donation to the Family Service Association of Howard County's Domestic Violence Shelter.
If you'd like a refund on your ticket, please call Tracy Martino for a refund Monday- Friday 9AM-4PM at 765-457-9313. Refunds must be submitted by September 1st.