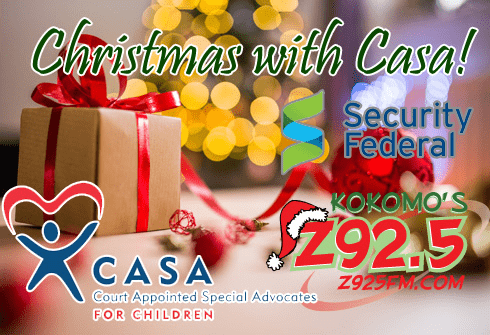 This Holiday Season Turn Up The Feel Good and spread love! Z92.5, Security Federal Savings Bank and Court Appointed Special Advocates (CASA) are partnering to help provide Christmas Gifts for Children in Foster Care.
Starting Wednesday November 6th, listen in weekdays at 8:20AM, 10:20AM, 12:20PM, 2:20PM and 4:20PM to adopt a CASA Child for Christmas.
We ask that you return your gifts unwrapped, with the tag we will mail to you to either Z92.5 or the CASA office by Monday December 2nd.
Z92.5
671 E. 400 S.
Kokomo, IN 46902
OR
CASA Programs of Howard County, INC.
104 N. Buckeye Room #100
Kokomo, IN 46901
A Note From CASA:
The CASA Program of Howard County, Inc. recruits, trains and supports community members to be volunteer advocates.  These CASA volunteers advocate in court and in the community for the needs and rights of children in foster care. These children have been abused or neglected and removed from their homes – they are going through an extremely difficult time in their lives!  A volunteer advocate spends an average of 8 hours a month getting to know the child, gathering information, exploring resources to meet the child's needs, writing reports, and representing the child in court. Often times the CASA volunteer is the only consistent adult presence in the child's life. The goal is to assure that every child has the opportunity to thrive in a safe, loving and permanent home.
In addition to becoming a volunteer advocate, there are a number of other ways to help.
1.       Volunteer Board member.
2.       Volunteer committee member for the following committees:  Public Relations, Volunteer Recruitment and Fundraising.
3.       Volunteers to help with fundraising events.
4.       Sponsors for our Christmas gift program.
5.       Monetary donations.
6.       In kind donations of services for children such as music, dance or art lessons.
7.       In kind donations of professional services to the CASA Program.
Thanks to Security Federal Savings Bank!