As you know the 4th of July is a time of fireworks. LOUD fireworks! While we love to watch them and post them all over social media, they can sometimes be incredibly frightening to our furry friends. My Mom's dog gets afraid every time it rains or storms. Its different for a lot of animals. Fortunately I don't feel like Stiles has much fear of loud noises. He tends to sleep through them.
For those of you that do have animals that struggle with anxiety there have been a few things that really helped our family out. 1 is a weighted vest. Much like weighted blankets are supposed to calm us, the same is true of these little vests. Melotonin for Dogs also seems to help some of them. And finally if none of that works, there is always medication. Unfortunately this is the path I have to take with Stiles when we take long car rides. I asked Karen from the Humane Society to give me her thoughts on what can help animals with anxiety!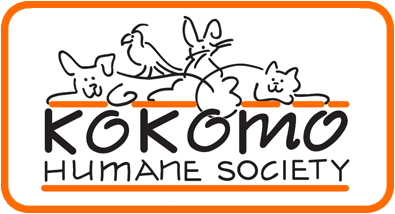 NOTE FROM THE DIRECTOR
The 4th of July is a favorite holiday for many people but also the most feared for many dogs and cats. We had never experienced this fear of loud noises in any of our animals until about a year ago when our dog Finn decided that storms, fireworks and any loud abrupt noises were terrifying.  He will hide in the laundry room between the wall the washing machine, in the closet or even behind the toilet.  Our other dog, Daphne didn't even  mind anything but now that her brother is scared she thinks there is something to be afraid of.
When we are home I just make sure to comfort whoever is frightened and hold them but I know that some animals react more severely and of course we aren't  always able to be home when the weather or fireworks strike. Now that we are going to be out of town on the 4th I thought that maybe some anti-anxiety medication was in order and called my Veterinarian to discuss it. We now have some prescribed and I think I will try it out before sending them off for someone else to see how it works. Another option if you don't want to medicate is a thunder shirt. This is a vest like wrap that holds the dog tight and is supposed to comfort them. I also have hear of people simply playing music or having the television on but I am not sure how effective that is. If you have had luck with other ways to sooth your scaredy cats or dogs please respond, we can use all the suggestions we can get.
One important thing to remember is that when an animal is frightened they are more inclined to run so make sure you have a collar with id tags on your dog or cat in case they run out and get lost. You don't think they will run away but when they are scared their first inclination is to get away. If you do lose a pet make sure to come and see if they ended up at the Humane Society. If not we will have you fill out a lost form.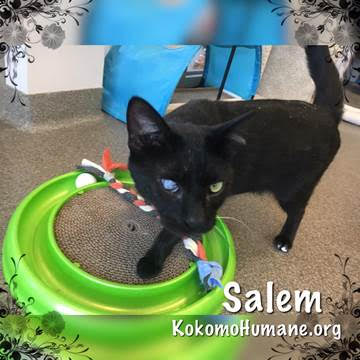 Our adoptable pet this week is Salem. He is a one year old short haired black cat, with one bad eye. He still has the eye but has no sight in that one.  Believe me though, it does not slow him down. He loves to play and especially loves the cat wheel.